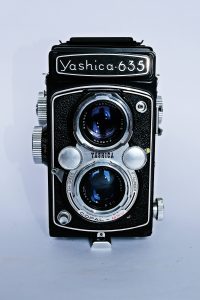 This camera a Yashica 635, is a TLR camera or twin lens camera.
Twin lens cameras are fun to use when you get used to them. With most you have to look through the waistlevelfinder and everything is shown mirrored through the glass. You have to pay extra attention to the composition. No lightmeter no autofocus, so I find you get back in touch with the skills of photography.
The Yashica 635 was introduced in 1958 and is an update from the Yashica D. The 635 takes two kinds of film, 120mm and 35mm. For the 35mm you need an adapterset to load the film. Filmspeed is from B up to 1/500sec.
It has got a fixed 80mm/ f 3.5 Yashikor lens, what is a decent lens. I have this camera already a while but never took it out. Going through my cameras decided it was time.
Loaded a Kodak 100Tmax 120mm film and away we went. The Kodak film is not my prefered film to use but I have them and have to be used. It is a great portrait film, for general useI find him a bitsoft and muddy.
So lets see some of the results of the 635