The Bloedel Reserve is the former residential property of timber baron Prentice Bloedel of MacMillian Bloedel fame. It is located on Bainbridge Island, a short ferry ride from Seattle.  The Reserve is now a private nature park that is open to the public for a fee.  While exploring the park a couple of weeks ago we saw a speck of white at the top of a nearby fir tree.  Through my 300mm lens (this is an Olympus Micro 4/3 lens, a full frame equivalent of 600mm) I could see that it was an Bald Eagle, but I didn't have high hopes for the photograph as the Eagle was so far in the distance.  This is a highly cropped version of the picture.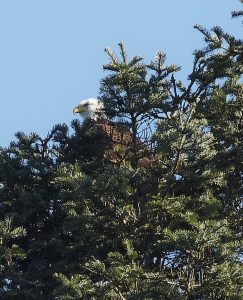 After processing the above image, I revisited the original image with the goal of getting an even tighter crop. I saw another flash of white, and discovered this other Eagle against the trunk of the same tree, about 40 feet lower.  It was a good lesson to me look at the entire image before focusing on just one portion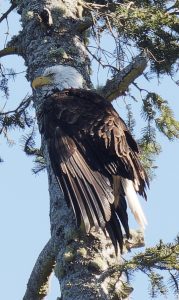 I never intended to be bird photographer, but that seems to be happening.